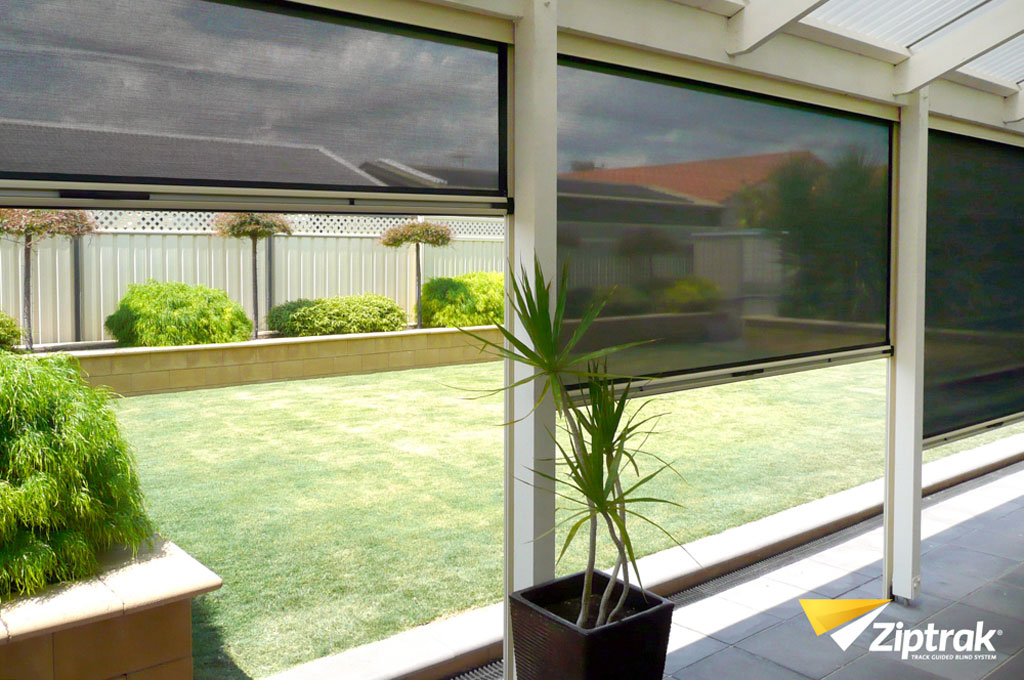 ZIPSCREEN
ZIPSCREEN EXTREME
ZIPTRAK
ZIPSCREEN • ZIPTRAK
ZIP AWNINGS GOLD COAST
At Sheerview we are fortunate to offer out clients the choice between the two leading options in privacy screens with both Zipscreen and Ziptrak as a part of our range. While both solutions share a lot in common there are some very slight differences between the two that we can help you with to get the best solution for your space. Read More
Ziptrak Outdoor Blinds
How can you improve the privacy and energy efficiency of your windows without using blinds and curtains? The simple answer is to use Zipscreen or Ziptrak privacy screens.
You can find these products at Sheerview Window Furnishings where we always have the best range and the best prices in window coverings of all kinds.
How these products improve energy efficiency
In theory, all window coverings help improve energy efficiency in the home to some sort of extent. In practice, it's definitely the case that some window coverings do a much better job of improving energy efficiency than others.
The goal is always to create additional layers for light particles to have to penetrate before they have the chance to inflict their heat energy on surfaces within the room. To understand this, it helps to know that light is a form of electromagnetic radiation.
Windows today are sold with energy star ratings, to help you choose the most energy efficient options. Surprisingly, window coverings don't yet have a standard of energy star ratings. If they did, products like Zipscreen and Ziptrak would easily be the five star products others would have to be measured against.
Blinds and curtains certainly help to cut down the amount of heat energy entering a room by creating a barrier for the light to penetrate. Most of the electromagnetic radiation from the light will either be reflected or absorbed by the material, depending on the colour, thickness, and porosity of the material. Any stray light that makes it through will have been slowed down and weakened.
The one flaw of curtains and blinds when it comes to energy efficiency is that they're mounted on the inside of the window. This means light has already had a chance to hit the surface of the window and excite particles within the glass, causing them to heat up, before continuing on to strike the surface of the curtains or blinds.
The glass of the window itself then becomes a thermal conductor, a fact you can easily check by touching a pane of glass that has been exposed to strong sunlight for more than a few minutes.
Products like Zipscreen and Ziptrak are mounted on the outside of the window, blocking light before it hits the window. The actual amount of light blocked depends on the options chosen for the product, but you can generally expect the ambient temperature and glare by a significantly noticeable amount.
Under these circumstances, the window does not have as much opportunity to heat up, and the window won't act so much as a miniature radiator and electromagnetic radiation transmitter.
How these products improve privacy
The problem of an uncovered window is that it allows people to see in, when you may not want them to be able to see in. Most types of curtains and blinds will do an effective job of helping to correct this problem, except they may do it so well that they make it more difficult for you to see out.
Zipscreen and Ziptrak have varying degrees of translucency depending on the options selected, and because of the way they are designed, you'll have a better opportunity to see out than anyone will have to see in.
Notable features
Available in a range of sizes from 5m x 3m to 7m x 5m.
Available as motorised or non-motorised
Available in a beautiful range of stylish colours
Zipscreen Extreme has high weather protection compared to standard model
ZipTrak is designed in Australia and is the most economical choice
Five year mechanism warranty for Zipscreen, one year mechanism warranty for Ziptrak
Our aim at Sheerview Window Furnishings is to help you achieve your home design and decor goals through high quality awnings, shutters, blinds, sheers and curtains.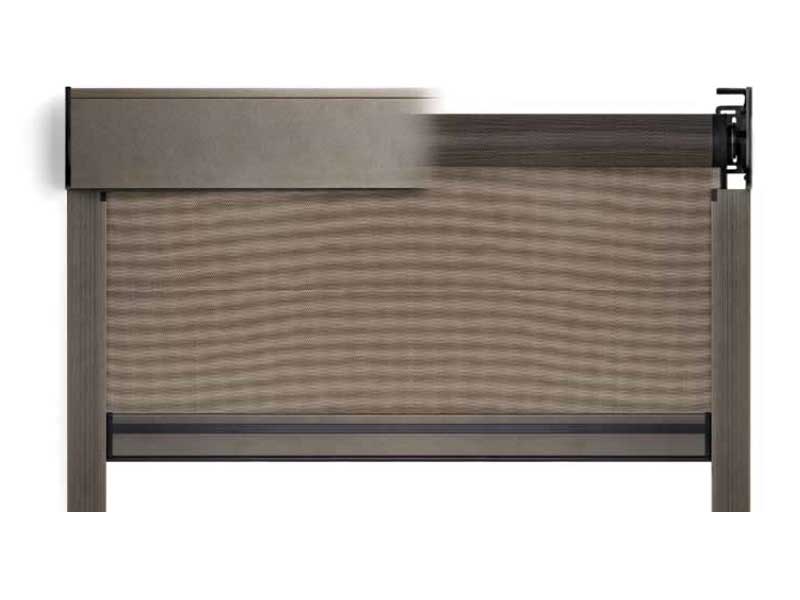 Zipscreen's strength is in design, both technically and visually.  Built for coastal environments and designed to use the same cassette housing for the mechanism as our drop screen solutions.  Allowing the use of multiple solutions around a property with the same streamline aesthetics.
BENEFITS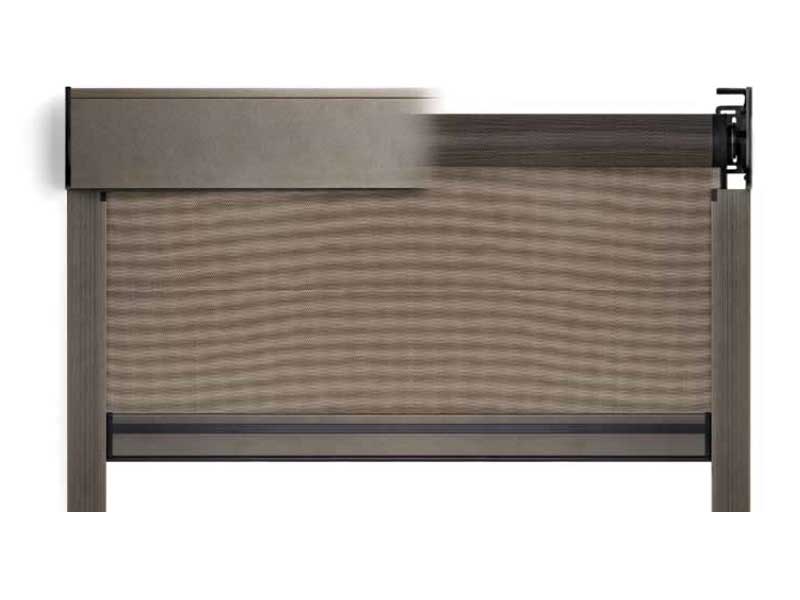 For seamless privacy screens up to 7 meters wide that doesn't steal your views the Zipscreen Extreme is our most popular solution.
Built specifically to withstand the corrosive affects of coastal living the Zipscreen privacy screens are a great product that lasts.
BENEFITS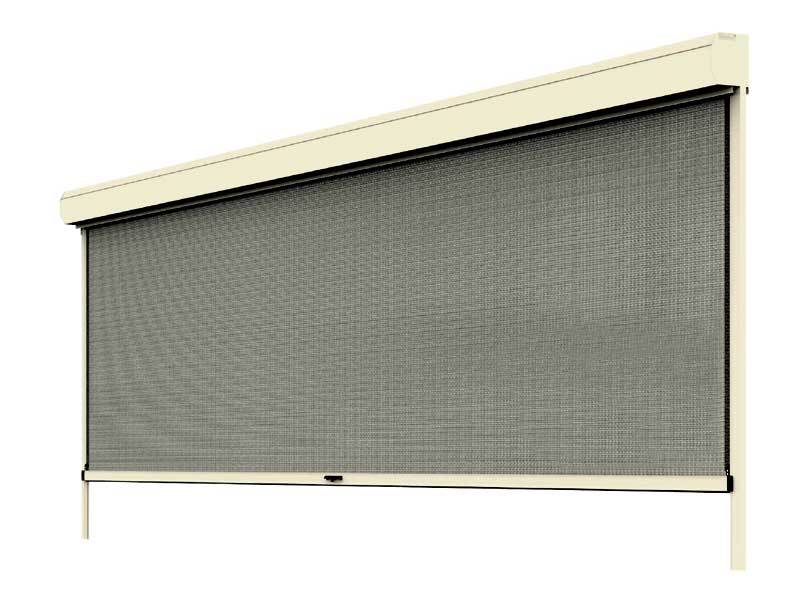 Its important to note that Ziptrak is designed in South Australia for Australian conditions and is undoubtedly the most recognisable privacy screen solution in Australia. Ziptrak privacy screens provide wide range of accessories to make your screen easily usable and accessible.
BENEFITS
ZIPSCREEN COLOUR OPTIONS
ZIPTRAK COLOUR OPTIONS
PICKING THE PERFECT TEXTILE FOR YOUR CONDITIONS & DECOR
AUSTRALIAN STANDARD RATED PRODUCTS WITH STYLE
QUALITY THAT CAN BE MEASURED
We have an amazing array of industrial textiles designed to give your area both the exact amount of light/UV coverage and the perfect match with your decor and colour schemes.  We don't just stock one awning textile solution, we offer multiple options from HVG, Ricky Richards and other premium shade cloth, privacy screen and textile manufacturers. To learn more visit our about us page
To take advantage of our experience with industrial textiles and their unique qualities, contact us and we'll help you select the most appropriate solution for your circumstances and budget. For example, your homes proximity to the ocean determines the level of corrosive properties your awning materials are exposed to and ultimately affects both options and lifespan of a particular textile.  We're always happy to help and if you're in the Gold Coast area drop us a line and we can discuss your awning options.
CONTACT US TODAY
GET A CALL BACK